The Best Activities and Attractions in Donegal
Looking for some inspiration for what to do during your stay in Donegal? Well look no further!
We have put together a comprehensive list of family-friendly activities in the Inishowen area that is sure to have something to suit everyone.
Wild Ireland wildlife sanctuary is the newest and most exciting visitor attraction in the North West of Ireland.
Walk among the ancient trees and encounter Brown bears, European Wolves and Lynx back together in the Irish forest for the first time in thousands of years. There are also Monkeys, Wild Boar and Deer to see on your journey through the past. Lots of wild birds call Wild Ireland home and their beautiful lake is home to swans, ducks and even a cheeky pair of otters.
There is lots to see and do for children too - take the fairy trail around the rainforest, be delighted with their tales of ancient folklore, play in their state of the art play park and finish off with some tasty treats from the Wild Ireland Shop and café – the ideal family day out!
For more information, see here: https://www.wildireland.org/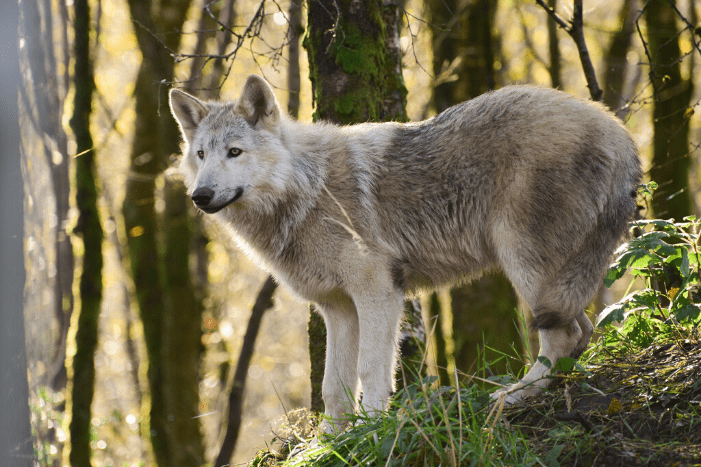 Malin Head is the northernmost tip of the Irish mainland. It is the start (or end, depending on your point of view) of the Wild Atlantic Way and has long been renowned for its epic coastal scenery, thriving birdlife and historical curiosities. A wonderful view over the coast and the mountains of Inishowen Peninsula rewards everyone who makes their way up the hill.
More recently, Malin Head also captured the imagination of Star Wars location scouts and they cast it in Star Wars: The Last Jedi. Why not take the family to Malin for the annual 'May the Fourth Be With You' Star Wars themed festival with fun events for all-ages taking place over the May bank holiday weekend.
Have an adventure on Land or Sea with Inish Adventures. Based in Moville, Inish Adventures provide all the kit you need plus a qualified instructor to guide you through the adventure of your choice. With over 20 different water and land based activities on offer, catering to all ages and abilities, they have something to suit everyone. From kayaking and banana boating to archery and orienteering, they offer it all!
New for 2020 they have added a new Water park feature. Tickets are priced at €20pp. Kids ages 7 and up.
For more information, see here: https://www.inishadventures.com/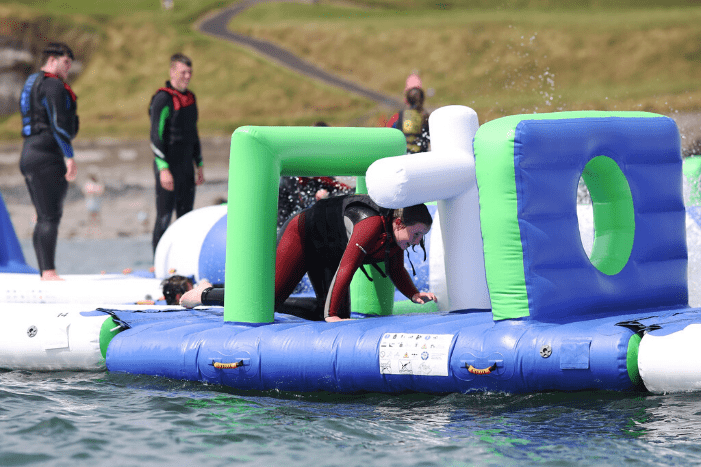 Using the latest DVD and interactive technology, the unique history of Fort Dunree is fully explained and recreated in vibrant and colourful displays. In its spectacular natural location, Fort Dunree is rich in wildlife some of it unique for the area. There are also numerous scenic walks to explore and a cafe to relax in. The panoramic views of Dunree Beach and over Lough Swilly all the way to the Fanad Peninsula are spectacular. Inish Adventures also offer Kayaking, Snorkelling and Coasteering on-site so you can explore Fort Dunree in a truly unique way. For more information, see here: http://dunree.pro.ie/
The Isle of Doagh offers beautiful beaches with an extensive dune system, which is renowned for its flora and fauna. It is also home to the impressive Carrikabraghy Castle in the far north-east of Doagh and the Famine Village, an open air museum showing scenes of life in the area and Irish history from the Great Famine of the 1840s to the present day. The museum is a must see when you're in the area! For more information, see here: http://www.doaghfaminevillage.com/
If you're looking for something a little different for your family on your trip then why not explore the hills of Donegal and the Wild Atlantic Way with your very own Alpaca to guide you!
Set on the stunningly beautiful Knockamanny bends at Ireland's most northerly point Malin Head, you can enjoy the spectacular views from Malin Head to Glashedy Rock to the Isle of Doagh and beyond with the folks at Wild Alpaca Way. A huge hit with visiting families, visitors get the chance to take an alpaca for a walk and the trek has lots of photo opportunities along the way. For more information, see here: https://wildalpacaway.com/

Only a 5 minute drive from the Wild Alpaca Way will bring you to the beautiful Five Finger Strand. The Five Fingers Strand is embedded between high dunes, which reach a height of up to 30 metres and are amongst the highest dunes of Europe. When the water is low during a spring tide if you are lucky, you can also see the wreck of the cargo ship "Twilight" which sank here in 1889.
Donegal beaches are some of the best beaches in the world, not just in Ireland! Inishowen boasts two Blue Flag beaches - the lovely Stroove Beach & Culdaff Beach.
Stroove Beach, located a few miles north of the village of Greencastle is a relatively small beach great for a family picnic or a brisk walk on the Inishowen Head Walk.
The stunning Culdaff Beach consists of a long sandy beach with two rock outcrops at the south-east of the beach. Culdaff beach is popular for swimming, walking and other watersports, most notably surfing, with a number of surf schools operating here. (See the section below for more information on surfing in Inishowen.)
Why not take the family a short walk from the Hotel's front door to Buncrana's own Shore Front Beach (aka Lady's Bay). This golden sandy beach is only a 5 minute walk from Buncrana's main street and beside it, there is a large green area, ample car parking and the Festival Par - a large, modern playground has plenty of bright and colourful equipment to engage children from toddlers to age 12.
Surfing
Inishowen is one of the Ireland's best surfing destinations – for both beginners and pros. With some of the most consistent waves in Ireland due to its exposure to South West, West and Northerly/Noreasterly Swells, Inishowen's long stretches of golden beaches make for safe surfing conditions and a pleasant environment for learning to surf. Why not book a surfing lesson with Inishowen Surf School during your stay for a great day out for all the family? For more information, see here: http://www.inishowensurfschool.com/index.htm
Horseriding
Looking for a fun and enjoyable experience while in Inishowen? Set in the idyllic surroundings of the Urris Hills and Tullagh Bay, why not take a trek along the beach with Tullagh Bay Equestrian Centre or enjoy a private lesson with Crana Stables.
For an experience you will never forget, why not explore Ireland's north coast aboard the 'Amazing Grace', a state of the art cruising yacht with Amazing Grace Yacht Charter! Whether you are travelling for the scenery, the action or just to relax, travel in luxury around the Inishowen Coast, and enjoy a truly unique experience of Ireland's Wild Atlantic Way. For more information see here: https://www.amazing-grace.ie/
You can also take a tour with the Inishowen Boating Company and experience the abundance of marine wildlife in their natural habitat. There are 24 species of whales and dolphins known in the waters off Inishowen and if you are lucky during your outing, you might encounter minke whale, common dolphin, bottlenose dolphin, harbour porpoise, Harbour and grey seals, basking shark, and sunfish. The area is also home to a variety of birds including puffins & swans. For more information see here: https://www.discoverireland.ie/Activities-Adventure/inishowen-boating-company/44181
How does to sound to hire your own private yacht for the day and sail out to a private Island? Bring a group of family or friends and enjoying the stunning Inishowen Coastline from this beautiful private yacht. Containing three bedrooms, bathroom and lounge area downstairs you can also hire for overnight stays.
Located in Greencastle the Inishowen Maritime Museum has an extensive collection of artefacts, exhibitions and memorabilia of all things maritime and included in the themes are shipwrecks, traditional boat building, fishing, emigration, WWI/WII Battle of the Atlantic, coastguards, master mariners to basking sharks and more.
The state-of-the-art Planetarium projection system gives audiences of all ages an opportunity to view various shows that provide a feeling of full sensory immersion unlike any standard classic planetarium or cinema. The dome theatre runs four shows each showing how mariners used to navigate with the stars and shows on prehistoric sea monsters, global climate and kids favourite the 'Enchanted Reef'. The Planetarium also provides dazzling astronomy and light shows. It is home to Ireland's only permanently-installed concert laser with Laser Light shows performed live every weekend during the summer season, accompanied by recorded traditional and modern Irish music.
Talk to one of our team today to find out more about a Family Adventure in Inishowen. Tel: 07493 61144.
To book we take only credit/debit card details, no deposit is required with Free Cancellation 48 hours before date of arrival.
To view all our family breaks click here: https://secure.inishowengateway.com/bookings/packages