Names: Carolanne Coyle & Rory Armstrong
Venue: Inishowen Gateway Hotel
Wedding Date: 7th December 2018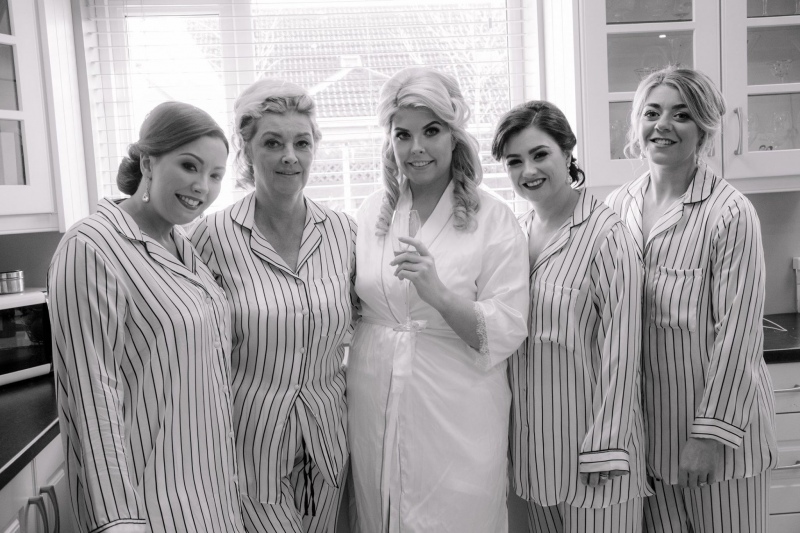 Tell us about you both as a couple and how you met?
My name is Carolanne Armstrong (Coyle) and myself and Rory met in school in 2005/2006. We had mutual friends and had known each other from social events and outings however as he was a year older, we rarely spoke. I had fancied Rory for some time as he was so funny, outgoing and the life of the party - I on the other hand, was quiet and shy. Myself and Rory (17 & 18 at this time) began dating following our first kiss at my maid of honours parents' home after a party. We remained dating for a year before I moved to Liverpool for three years for university. During this time, we remained together and endeavoured to make the relationship work even being quite young. Rory and I, having little money, flew back and forth as often as possible to see each other. Rory is the complete opposite of myself which is what made it work even more. He is very easygoing and outgoing where as I have a need for structure and stress! We took each year as it came with no real thoughts to the future but we knew we were in love. In 2015 we had decided we wanted to plan out future together and began saving for our first home. Rory also surprised me with a proposal in 2017 and it was everything I had dreamed it would be. We work well together and at times like any couple can have our moments but it's now officially been 12 years since 14/7/2019.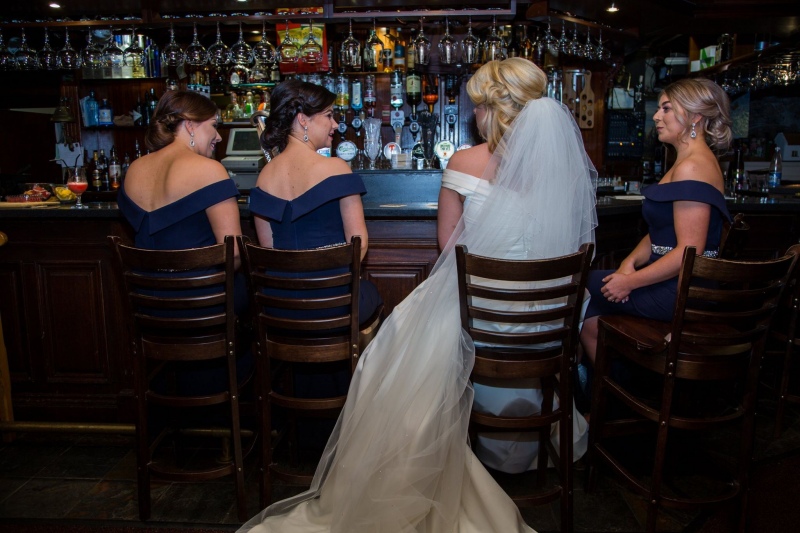 Tell us about the proposal, we want all the fabulous details!?
Whilst Rory and I had discussed marriage many times we had our priorities straight from a young age in which we wanted to buy our first home before we were married. At this time, we were working several jobs and saving every penny we could so had not given much thought to an engagement, despite several friends weddings during this time. Rory and I had agreed that we would get engaged, however we agreed it would be on Rory's terms as I can be quite bossy (which Rory would massively agree!) , however knew this was an important part for him.
I had visited Callaghan's Jewellers several times with my mother and picked my dream ring, which they handmade to my specifications. I had told Rory about this and left it at that, when he wanted to ask he just had to see the lovely Kate Callaghan when the time came.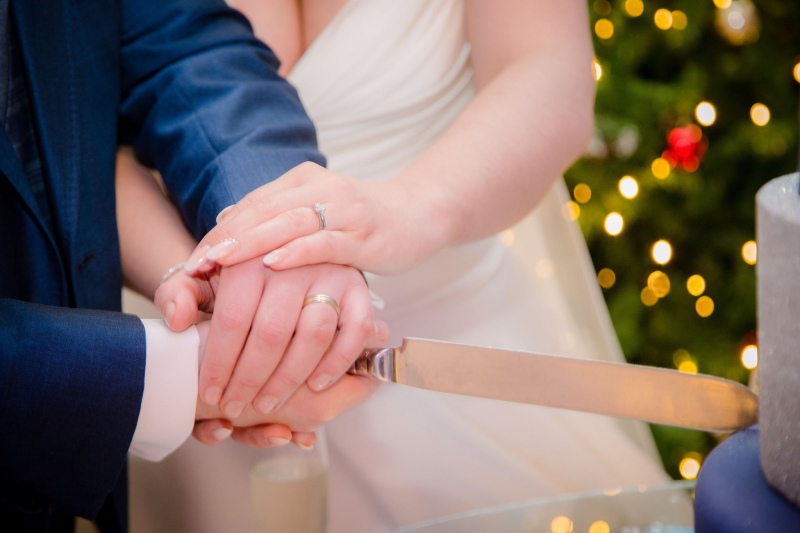 Rory's birthday was coming up on 4th December 2017 and we had decided to go all out and book Lough Erne as an extra special treat (which he paid for). We had travelled to the hotel and gotten there early and our room wasn't ready. Rory had suggested we go for a walk on the grounds as he had a plan to propose on a near by bridge over the water, however me being me, had other ideas and done my own thing. Rory and myself wandered the opposite way to which he wanted and I noticed him becoming increasingly anxious. We had walked up onto a putting green overlooking the lake and I was on my phone taking pictures. Rory at time had told me he had forgotten my Pandora Rings (which I had requested he brought from his mother's home) and I tutted in annoyance. Rory then stated "but I have another one you can wear", when I turned around Rory was on his knee on the wet grass with the ring of my dreams and asked, "will you marry me?". At this time I was in complete disbelief and the only thing I could say is "Are you serious?!!" in a high pitched squeaky voice that got a pitch higher each time I asked. I then began to tear up and forgot to say yes before taking the ring off him. Rory then had to actually ask if it was a yes, which of course it was! We celebrated the evening toasting to our future as Mr & Mrs Armstrong.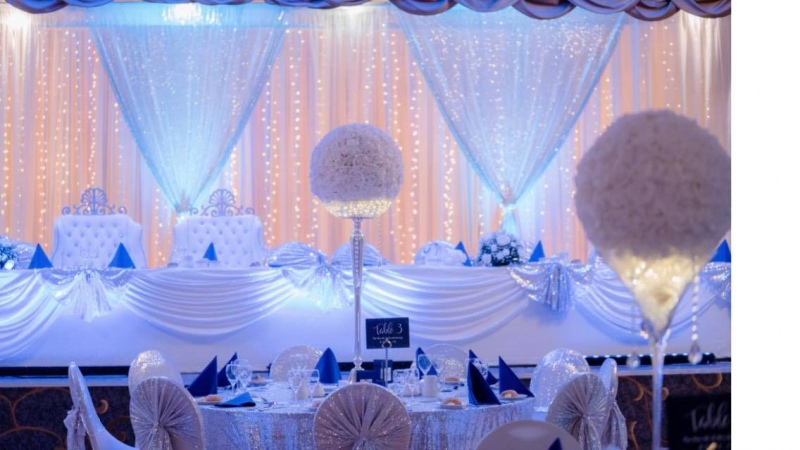 Why did you decide on the Inishowen Gateway Hotel as your wedding venue?
For us our wedding venue was chosen well before where married for several reasons, locality, the venue , the size of the room and previous experiences of staff and service. My older brother had also been planning his wedding at this time in the same venue and I knew this was always going to be the choice for me.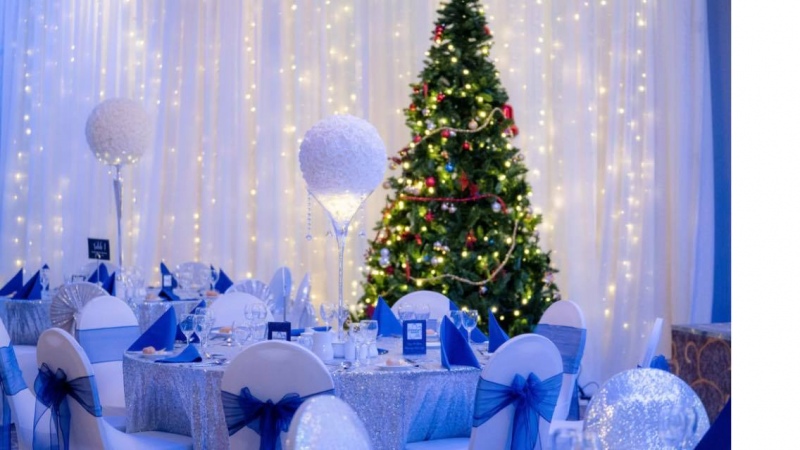 What most impressed you about your venue experience? What was the wow factor for you and guests?
With booking our venue and every contact I had with any staff member they where faultless. Staff could not be more accommodating to helping me organise my wedding, rooms for guests, entertainment etc. I had never anticipated how overwhelming it could get however with the aid of a dedicated wedding coordinator helped massively alleviate my worries and concerns.
At our venue, we were given the options and choices around personalisation, which was a massive part of my experience and the "wow factor". Every detail was catered for and the staff helped accommodate my busy schedule and contacted me via email and appointments late evening to help iron out the fine details.
The room itself is Grand however when you had been to several weddings in the same venue I wanted to stand out. I had enlisted the help of Canterbury Tails who supplied room dressings who helped create my dream room and words could not describe that feeling when I saw it. It was perfection, more than I ever hoped for, which made it even more special for me and my husband.
The staff in itself also where so helpful, accommodating for anything and everything we could ever of needed and wanted and the service was next to none. Even down to having a separate entrance to our room helped keep our guests together and away from the main hotel which is something which made it more special also, which is rare to most hotels.
The co-coordinator also helped tailor a package to suit my needs and wishes on the day such as extra wine for the tables, complimentary rooms for our parents and scones for arrival etc. They also brought in navy napkins to suit my theme, which was above and beyond their duty, this brought my whole theme together.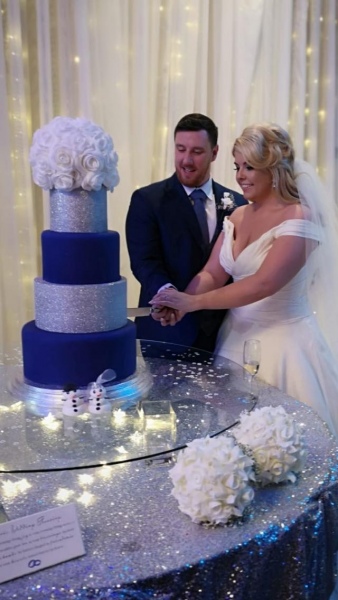 What was your favourite thing about your wedding photographer? How did you find the process working with them?
My wedding photographer Jackie was a saviour from start to finish. From calming the bride to saving the day sewing my maid of honour into her dress. She was cool calm collected and everything I needed her to be. Our weather was poor and we took it easy and had a fun and enjoyable experience with our whole wedding party. It was important to us to have fun and not spend hours taking photos so our approach was relaxed mostly which was more than accommodated. Jackie went above and beyond in every aspect of the day, even staying to capture the first dance as a request from myself.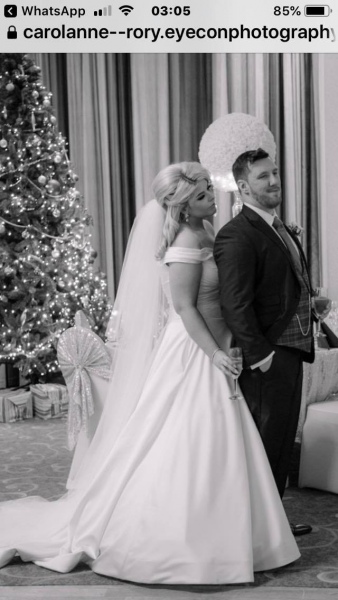 Did you follow any wedding trends, unique themes or ideas?
There was as always many trends about including drones, wedding cars etc however for us we needed to ensure the wedding was what we wanted, and not just 'Instagram worthy'. We focused on points for us such as our room, entertainment – casino tables, sweet carts, photo booth etc. We also had the Secret Singers, which was an amazing performance and an added special touch to our day as a surprise from my parents. All these things were details which we wanted and of course there were things we done without in order to stay within budget. We had our room focused on a 'Winter Wedding' to follow with our engagement and favourite time of year. It was a warm and enchanting room including a beautiful entrance tunnel. We kept the room white, silver and navy, which complemented well, turned out amazing, and transformed the ballroom.
Tell us about your wedding attire!?
My dress was a simple a- line, duchess satin dress from the Bridal Showrooms, Derry. This dress was one of the first I tried on and instantly fell in love with it. I had felt like a princess accompanied by a handmade broach bouquet from Bouqetilcious (Julie). My bouquet was made with important pieces from my family and complimented the simplicity of my dress. This was also an important keepsake from my wedding.
What was the most special moment of your big day? Any funny/embarrassing stories?
The most special moment of my big day includes;
· Rory welcoming everyone to "Margaret and Jackie's Wedding" as they had gotten a little carried away in the planning.
· Sharing my first father-daughter dance as a married Woman (my father actually cried, probably tears of joy for his pocket though!)
· The bridesmaid dress busting just as I was getting dressed for leaving the house! My maid of honour was a PT and has the smallest dress of all of us, we joked it was her four rounds of toast, which at the time .. Wasn't too funny.
· The room reveal on arrival and the staff going above and beyond ensuring I always had a drink in my hand.
· Celebrating the biggest day of my life with everyone we care about, despite the things that went wrong, nothing could take away from the day.
· The constant buzz of the room with all the entertainment and joy.
· The overwhelming feeling of happiness being Mrs Armstrong and finally marrying my best friend.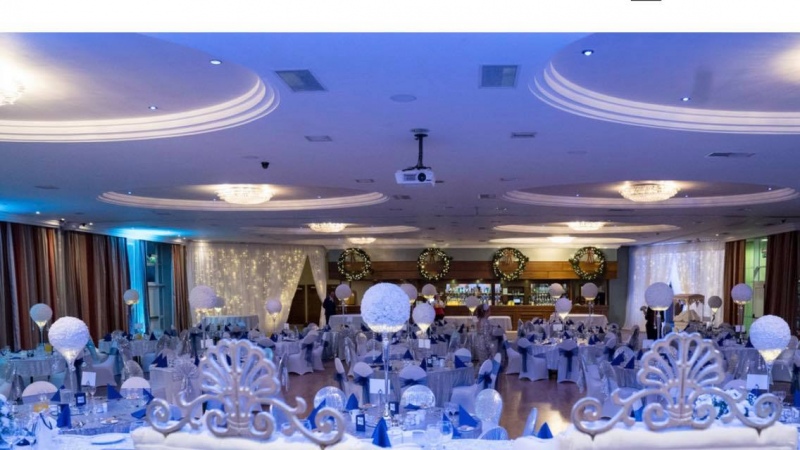 Anything else to add?
I would love to do it all again and look forward to our next stay in the Gateway.
Name of Photographer and website: Eyecon Photography ;
Name of Florist: Bouqeutlicious, Muff
Wedding Dress: Bridial Show Room's Derry
Wedding Entertainment (music, band, magician etc): Casino , Secret Singers , Derry Photo Booth
Name of Make Up Artist: Charlene Green (Bride )
Name of Hair Stylist: Tara Henderson (Hair and makeup of bridal party)
Wedding Cake: Cakes and Bakes Derry