Welcome back to all our valued Members
Dear Member,
The staff would like to take this opportunity firstly to express our thanks for your previous and continued support of the Inishowen Gateway Leisure Centre.
After experiencing considerable rising costs over the last few years, we have refrained from membership adjustments. It is now necessary to increase prices to continue to survive, operate and provide the services to which you have been accustomed.
We wish now to advise you of our forthcoming increase in membership rates due to rising costs in post covid 19. These prices will take effect on 01/05/2022. Please see attached our new prices for 2022 Leisure Centre Memberships.
Direct debit payment will also increase and there will be a slight change in terms and conditions for all direct debit memberships. We will contact all direct debit members to discuss the options. Direct debits will increase by the new amounts from (insert date that direct debits are taken from accounts).
If we do not receive a response from you, we will assume that you are happy to continue your membership.
Should you decide to terminate your membership and stop using the facility we completely understand and therefore we would like to thank you once again for your custom – your business is massively appreciated.
If you have any queries in relation to the above, please contact Kevin or Phil here at the Leisure Centre.
Kindest regards
Kevin
Leisure Centre Manager
Book a time slot
A time slot must be pre-booked in advance for the gym or swimming pool using our online booking system.
This may change in the coming weeks in line with Government regulations.
1. Firstly, to register on the leisure centre booking system, Click Here ( This will register you onto the gym booking system only.)
2. To add the pool booking system, Click Here
3. You can then book your slots for the gym or pool (please be careful to book for the correct facility).
4. Please use this system to delete your booking if you are unable to make your booking.
5. A slot can be made for the gym or the pool separately and the slots are 1hr in length. (gym bookings are on the hour, pool booking on the ½ hour)
Please remember:
Don't enter if you are experiencing any symptoms of Covid-19 – please isolate at home until it is safe to return

Ensure you sanitise your hands at the sanitiser station provided

Social distancing will be outlined

Check-in at reception to confirm your booking

We have installed new hygiene screens at our reception desks

Our staff may be wearing PPE to protect both members and staff where social distancing measures cannot be adhered to

Please observe and follow signage

Some of our services will be running at a reduced capacity and some may be temporarily unavailable

Please be patient with our staff, while they too are adjusting to these new measures
Using the gym
Please come gym-ready and leave immediately after your workout

Changing facilities will be available but members are encouraged not to use them if possible.

If you do need to use the changing room, you must inform staff on entering the premises.

Water fountains will not be available

Paper towel will be provided for sanitising equipment before and after use.

Play your part and wipe down equipment before & after personal use. This includes free weights, machines.

Our disinfectant will be available for members to use.

Please bring your own mat.

Social distancing will be implemented in the gym

Avoid going to or touching areas or equipment you do not need to

Use hand sanitiser dispensers regularly and wash hands regularly where possible
Using the pool
Maximum capacities will be in place during each time slot for social distancing

If possible, come pool-ready and only use changing facilities after your swim

Adhere to your allocated time slot (failure to do so will result in entry being refused)

Showers will be available, but it is preferred if swimmers just rinse, change and go
Fitness Timetable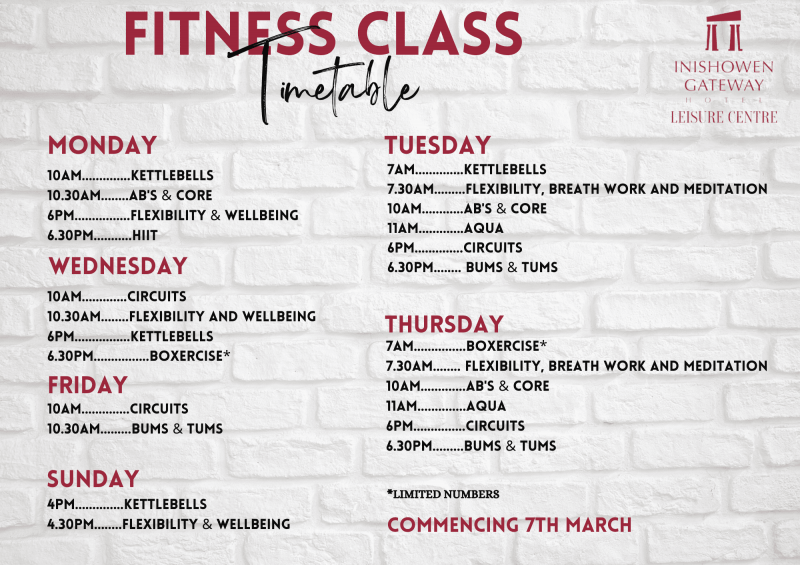 The onus is on individual members to contact us here in the Leisure Centre if they do not wish to reactivate their memberships from this date.
We will be operation a booking system to use the facilities and walk in will not be permitted. Please contact us with any issues on: 0749363565 or emailing us On leisurecentre@inishowengateway.com
Direct debit members please call to discuss your next payment date.