Leisure Centre
Guest Information – The Gateway Health & Fitness Club
PLEASE NOTE:
Our Swimming Pool facility is closed whilst we endeavour to correct a serious maintenance issue. At this time we are not in a position to provide a time scale of closure but we will of course provide updates as we recieve them. We value your custom and support and we appreciate the inconvenience caused for which we unreservedly apologise.
Enjoy your 'get-a-away' in our popular and favourite Leisure & Pool facilities which suits all our guests, even the little ones in our special separate kids play pool.
This Donegal Leisure Centre has a pool, sauna, steam room and spa bath to help you relax when you want to stay indoors, or ease away the strains of tired muscles after an invigorating day out with the kids or your loved one exploring the great Donegal outdoors.
For the more energetic we have a fully equipped Gymnasium offering resistance exercise and cardiovascular fitness.
Enjoy your Leisure time with our dedicated team at this Donegal leisure hotel.
Available Facilities
Fully equipped Fitness Suite
20 Metre Deck Level Pool
Children's Pool
Sauna, Steam Room and Jacuzzi
Aerobics Studio
Gym Equipment includes
Treadmills
Crosstrainers
Rowing machine
Suspension straps
Multi grip pull up bars
350KG of free olympic bar weights
300KG of free dumbbell bar weights
Spin bikes
Resistance equipment
Weights Bench
Preacher Curl
Fitness Classes include
Ladies Toning
Circuits
Indoor Bootcamp
Aqua Aerobics
Fitness Club membership pricelist: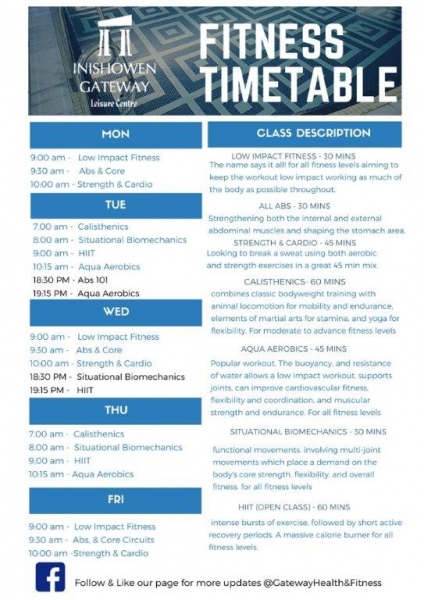 OPENING HOURS
Monday-Friday 7am-9.30pm
Saturday 9.00am-8.00pm
Sunday 9.00am-8.00pm
CHILDRENS OPENING HOURS
Monday-Friday 9am-7pm
Saturday & Sunday & Bank Holidays 9am-6.30pm
Family fun hours in the pool during School holidays (July, August and mid term breaks in February and October) between 11-12pm and 4-5pm every day with inflatables and water toys
Hats are compulsory in the main pool and can be purchased at the Leisure Reception. €2.50 each
All children must be accompanied by a responsible adult at all times in the pool.
For our fantastic membership offers please contact our qualifed staff today on 07493 63565 or email william@inishowengateway.com